Construction Management Software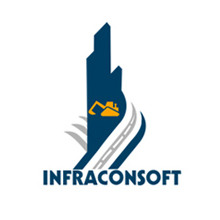 Infraconsoft, has emerged as the sole solution provider for
Road and other construction industry to manage
their operations which is spread in various stages and locations. Infraconsoft perfectly suits these companies to manage their Inventory, Vehicle, Production, Tender, Estimation, Branch etc and finally connecting all these to their Tally accounting software (The accounting software which is widely used in India) Infraconsoft is a web based software and hence it enables the companies to have information on their finger tips from anywhere , anytime. That is why we have coined this slogan "tracking to triumph" . Please check the highlights and modules of the software.

Infraconsoft modules - Web based
Inventory management
Purchase management
Vendor Management
Vehicle, Machinery and assets Management (Vehicle tracking coming soon)
Production management (production of various items)
Stores management
Payment and vouchers (recording payments being done to contractors and labours)
Tender management - Estimation
Payroll
Accounts (all these modules are integrated to) Tally (Indian) Accounting software.
Key Points:
Know and track even the minute details of the inventory of the company

Freedom of using software at user's own convenience like at Home, car, airport, etc., 24/7

Expensive & comprehensive solutions at concise form and affordable cost

No need to maintain costly local servers

Adding additional branches, and new user at a branch is a "click of button."

Re-Order level - email alerts

Online Bill Passing
FIFO / LIFO methods in stores
Stock transfer between branches
Vendor Rating/Vendor management
Integrated, centralized, purchase approvals and Purchase order generations
All minute spares of vehicles with part number is stored the Inventory.
FC, Insurance renewal alerts and emails

Hire charges bill with deductions

Fuel consumption Monitoring

Complete features of payroll with remote attendance monitoring-connected to biometric or swipe /access cards

Tally Integration

Selective Data Transfers to Tally

Access Login control with permissions
Reports (Inventory)
Indent Reports
Purchase Requisition status
Purchase Order Report
Stock Transfer Report
Stock summary
Ledger
Daily Issue cost Report
Purchase Requisition Report
GRN Report
Local Purchase Report and host of other reports
Reports (Vehicle Maintenance)
Vehicle Log Book

aily Progress Report

Maintenance Report

Transferring Report

Vehicle branch wise position Report

Total working hours Report

Fuel consumption Report

Tyre tracking Report

Renewal Reports

Hire bill Report

Sales scrap reports and host of other reports
We are sure "Infraconsoft" can provide excellent control and ease of operation and expansion the moment this is installed in an organization. We are expecting you to use "Infraconsoft" in your organization and track all activities, keep all under your control which will ultimately lead your organization to a further great triumph and profits.


Ask us for a live online presentation of our software
"Infraconsoft"
today